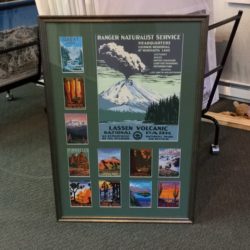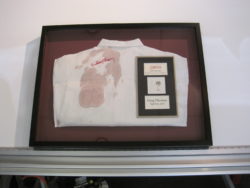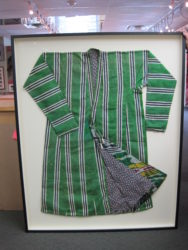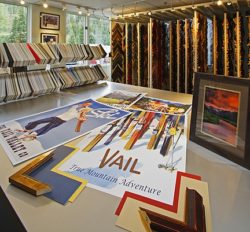 Since the 80's, Mount-N-Frame has been known as the go to place in Vail and beyond for custom framing. We offer a wide selection of framing materials from all the big name suppliers as well as those that you may not be familiar with. Our experienced staff will guide you, resulting in a design that uniquely fits your home, taste, and lifestyle. We provide high quality craftsmanship as well as great designs. Because custom framing provides the very best means of displaying & preserving precious memories and artwork, it is a purchase you will enjoy for many years to come.
I've never had anything custom framed before. Where do I start?
Stop by the shop with your art, object or other item and we will present you with design and price options. No appointments are necessary and you are under no obligation to make a decision. Part of our mission is the educate you and perhaps the most valuable aspect of our service is our professional knowledge of the custom framing industry. We love what we do and are eager to share our passion and knowledge with you!
How long does it take to get something framed? Our normal turnaround is about 10 days. It does depend upon the particular job and materials chosen. We carry frames that are hand finished and can take a month or longer. We also carry in stock mouldings and mats for those projects that need to be finished yesterday!
How is your selection? Although it only takes that one perfect frame, we have thousands of frame samples to accommodate your vision and budget.
What is your mat selection like? Mount-N-Frame carries archival mats in a range of colors and textures. Fabric mats options are available. We can also hand wrap a mat for you with fabric or paper product (i.e. wallpaper or even a map from your travels) that you provide. Pre-cut mats are stocked that will fit in ready made frame sizes.
Do you carry any ready made frames? We have a selection of 8×10, 11×14 and 16×20 frames available that just need glass and backing to complete the job. Our photo frame selection includes 4×6, 5×7 and 8×10 sizes ready to display your photos on a shelf or desk.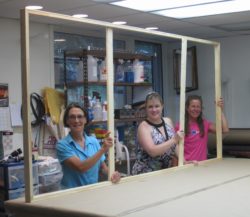 What type of glass do you carry? We have a wide range of glass and plexiglass products to protect your artwork from the environment. We strongly recommend an option that includes UV protection since more UV damage occurs at altitude. Our favorite product is Museum Glass for it's clarity and minimal reflection.
Mount-N-Frame is skilled in conservation framing techniques and use fully reversible custom framing solutions when needed. As members of the Professional Picture Framers Association, and with a Certified Picture Framer on staff, we remain current with advancements in conservation framing practices. We love what we do and it shows! We guarantee that your unique piece will receive the individualized attention it deserves.