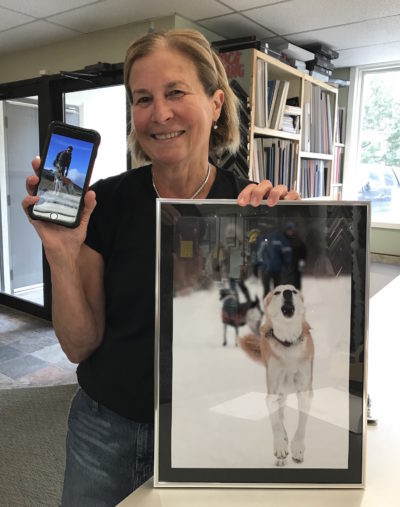 One of the things people notice when they come to Vail is how dog friendly our community is. We LOVE dogs! Here at Mount-N-Frame you may be greeted by up to four dogs depending on the day. So it is not unusual for us to frame photos of dogs, deeply loved family members each and every one of them.
Mary and her son Chris are no exception, they love dogs too! Almost 7 years ago, while surfing the web, Chris came across the Eagle County Sheriff's animal shelter website. He read about a 15-month old Alaskan Husky that had just been relinquished by his previous humans. Chris convinced his mom, Mary, to go check out the dog, "Roco",  in person. Suffice it to say that they all fell in love. Although it took lots of training and hard work to help Roco overcome anxiety, and some very bad habits like jumping tall fences and running away, it was worth all the effort.
Now Roco is a sweet and secure dog who has travelled and played in dog parks in Vail, Chicago and Portland.  It truly is a dog's life!
The story came full circle to us at Mount-N-Frame the day Mary brought us a picture of Roco to frame as a gift for Chris. She was so thrilled when she picked it up…you can tell by the look on her face.